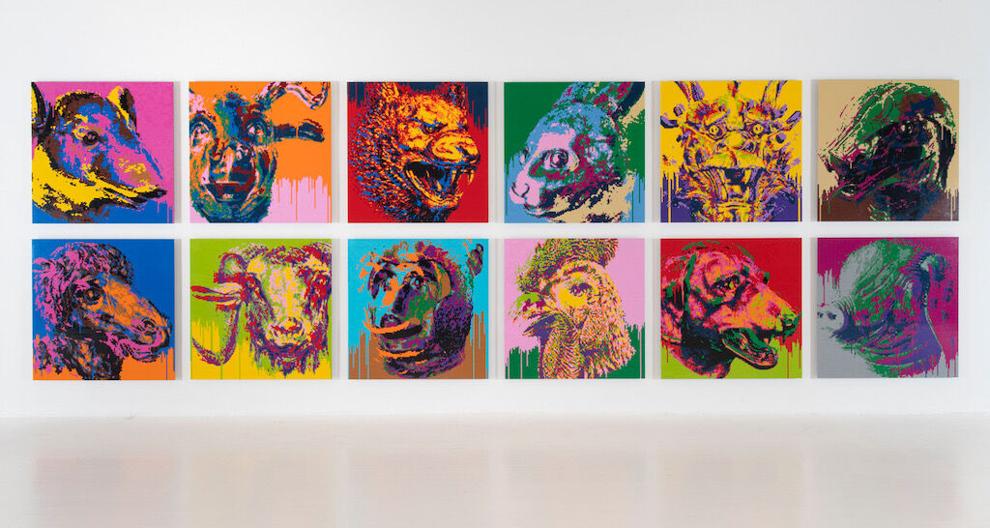 At a time when authentic political dissidence seems increasingly difficult to achieve in art, with many attempts ringing hollow, Ai Weiwei keeps trying.
Throughout his decades-long career, the Beijing-born artist and activist has made a name for himself as an outspoken critic of China's government and suffered the consequences, from being jailed and surveilled to having his passport revoked. "Everyday Monuments," Ai's first exhibition at Haines Gallery since 2016, feels uncharacteristically demure, as the title suggests, hewing closer to the everyday than the monumental in order to deliver a selection of his recent political messages.
The main attraction is the US debut of the 2018 series "Zodiac": 12 45-inch square mosaics, each assembled from approximately 20,000 LEGO bricks and illustrating a different animal in the Chinese zodiac. In 2014, gallerist Cheryl Haines' FORE-SITE Foundation staged the extravagant exhibition "@LARGE: Ai Weiwei on Alcatraz," which included, among several other works, LEGO portraits of 176 political prisoners and dissidents.
The animal portraits that comprehend the "Zodiac" series are less confrontational, carrying their message a bit more subliminally: They reference the bronze animal heads that once adorned the Zodiac Fountain in Yuanmingyuan, Beijing's Old Summer Palace, looted by Anglo-French troops in 1860 Only seven of the heads have resurfaced, some in high profile auctions at Christie's.
Ai's first Zodiac series, in 2012, consisted of actual bronze castings. Re-casting the heads in LEGOs, rather than bronze, foregrounds questions of value and ownership. The Pop Art visual style offers an economic critique of its own: Perhaps these national treasures have always been commodities, in anyone's hands. Sure, someone could buy one of these LEGO mosaics, but they could also make it themselves. LEGOs, as a widely available and relatively cheap material, suggest a democratization, and potential dissemination, of the work itself.
A handful of older sculptures have been chosen by the artist to accompany "Zodiac" in the exhibition. "Lantern" and "Ceiling Lamp with Stars," both 2014, offer marble facsimiles of their titular objects. The 2014 "Colored Vases" features five Han Dynasty vases desecrated with industrial paint. The destruction of these antiquities interacts with the reference to looted monuments in "Zodiac." Here again, Ai insists on decentralizing the power of art objects connected to state powers by re-appropriating authority and making it look easy. Ai's implication is that anyone could — indeed, should — do it.
But most striking of the ancillary works are selections from the 2014 series "Marble Rebar." These are marble facsimiles of bent pieces of rebar, displayed on and inside of wooden boxes reminiscent of child-sized coffins. The series addresses the government coverup of an earthquake that struck China's Sichuan province in May 2008, killing almost 90,000 civilians, including a disproportionate number of children due to poor infrastructure in school buildings in the area. The sculptures operate as a simultaneous memorial for the departed children and a critique of the government's fault in, and reaction toward, the disaster.
While the pieces in "Everyday Monuments" raise awareness and questions around issues in art and politics, they do so from behind the impersonal veneer of manufactured objects. At the same time, Ai himself has become such a monumental figure, that his authorship threatens to overshadow his messages. Yet radicals, especially those who make names for themselves, owe much of their celebrity to the systems and states they oppose. But it's a catch-22 Ai plays with. He is both nowhere to be found in his work and omnipresent — just like the overbearing and shadowy state he seeks to critique.
IF YOU GO:
Everyday Monuments
Where: Haines Gallery, 2 Marina Blvd, Building C, First Floor, SF
When: Tuesday to Saturday, 10:30am-5:30pm through Aug 27, 2022
Contact: (415) 397-8114, hatesgallery.com
.