On Saturday May 21, 2022, viewers elected Nour the most beautiful voice during the finale of The Voice. And here is what you may not have known about Florent Pagny's young protege.
France has its new finest voice. Saturday May 21, 2022, the eleventh season of The Voice ended on TF1 after several weeks of competition with the victory of Nour. From the height of her sixteen years, the protege of Florent Pagny, with whom she has forged a beautiful complicity to the point that he becomes for her like a "second dad"captivated everyone by interpreting Shallowtaken from the soundtrack of the film A Star Is Bornand Before you, in duet with Slimane. A great way for the latter to address a symbolic gesture to his former coach, while the young woman was above all aiming for victory, now achieved. Benjamin of the competition, it was however not the first time that she participated in a tele-hook, in particular on TF1.
Nour participated in The Voice Kids
Latest news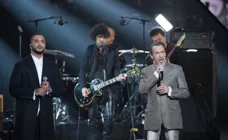 Indeed, you may not have known it, but before trying the adventure The VoiceNour participated in 2019 in The Voice Kids. Spotted by Soprano for her interpretation of Havana of Camilla Cabello, she had finally been eliminated during the battles. However, far from wanting to give up on her dream, she decided to follow the advice of her coach, convinced that she had the level for "to compete among adults". She therefore waited until she was 16 to try her luck, with a tender thought for Soprano by singing her "favorite song", All the cries, the SOS by Daniel Balavoine, during blind auditions. "I wanted to give him a wink and thank him for giving me advice that made me gain confidence"she told the Figaro.
She dropped out of high school during The Voice
Among the favorite candidates of this eleventh season of The Voice, Nour was treated to the positive fallout of his budding stardom, receiving support from a large number of fans across France. However, this success has not been favorable to him. Educated in first class at Saint-Cyr-l'École high school, she recently revealed to TV 7 Days having stopped going to high school two weeks before the final, because it had become "a little messy". "Since the stage of the battles, I had a lot of remarks from my teachers who told me, 'it's no longer useless for you to come to class'… It touched me, I cried when I got back my house"she confided, explaining that she wanted to focus on the end of the competition and advise afterwards.
She had a problem with her voice before the final
In the long-awaited final of The Voice, Nour took the microphone to interpret several titles. Shocking during his performance of Fly of Celine Dion, some have however noticed that the young woman was not at her best. And for good reason, a few weeks before the final, she lost her voice. "It's more fatigue, but I have to recover from my emotions. I do what I can, I try not to talk too much even if it's a bit complicated. I take medication"she confided to Tele-Leisureand to add that, before the decisive moment, Florent Pagny forbade him to sing. "She has a throat injury… She couldn't do what she knows how to do so well. It annoys me"also upset his coach during the final.
His mother is a saxophonist
While she has been singing since the age of 4, the young woman from Yvelines, who now lives in Maurepas, has always been immersed in music. If she started to push the song without taking singing lessons, it is in particular because, from an early age, Nour had the chance to attend "often" at the rehearsals of his mother Anne-Sophie, who is a saxophonist. And thanks to her father's Moroccan origins, she was also able to vary her musical influences, absorbing "Both sides" of his parents, and "integrated this oriental side into his music".
Nour is big… Very big
If she was the youngest of the candidates during this eleventh season of The Voice, the 16-year-old was also among the tallest in height. From the top of her meter 81, as she specified on her Instagram account, she is therefore a singer, but also a model on occasion. "Every week, she gains two centimeters"did not fail to have fun Nikos Aliagas during the final.
Series, people, TV, society, Pauline likes to vary the subjects. A fan of travel and pop culture, she is interested in all trends and has a small passion for…